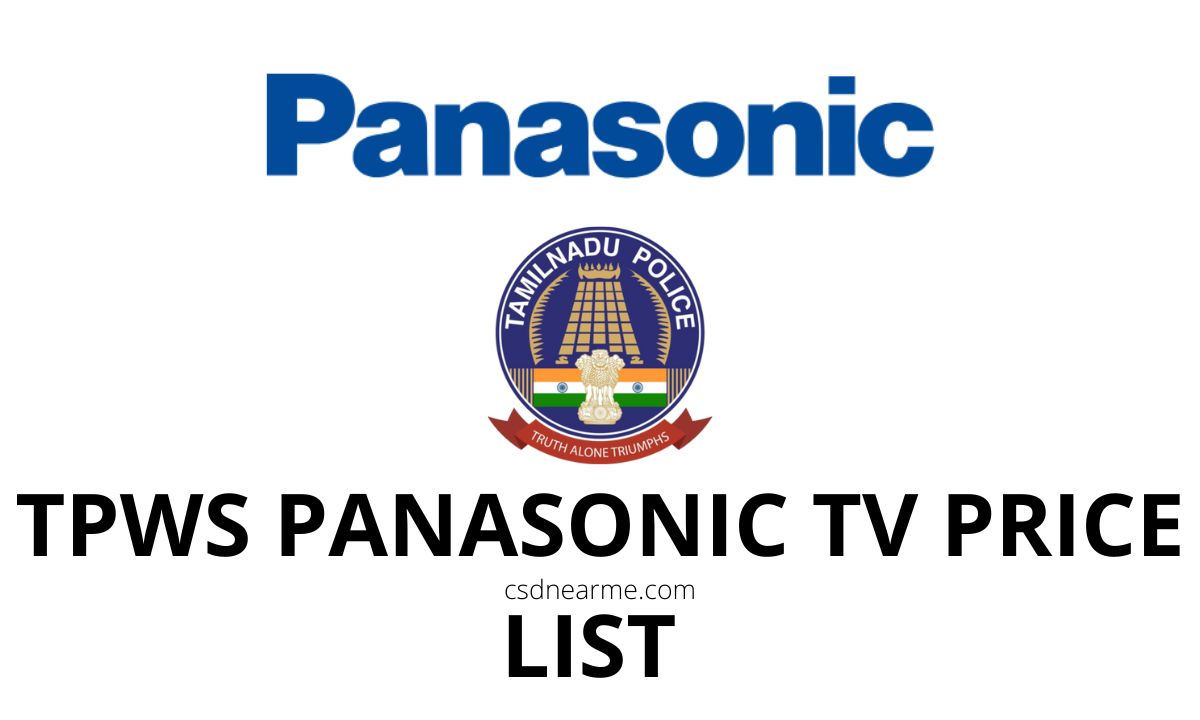 TN Police Canteen Store Panasonic TV Price 2023
Panasonic is one of the largest old premium electronic manufacturing brands in India. It has a wide range of products in electric and electronic appliances. It was very reliable in TV brands with updated features and models. Panasonic TV offers smart tv, SUHD, OLED, 4K, LED, and Android TVs. Panasonic TV inches start from 22 to 55 inches.
Police Canteen Store Panasonic TV Price List 2023
TPWS (Tamilnadu Police Welfare Store Price) Canteen Stores offers Panasonic TV at discounted prices for every Police officer in Tamil Nadu. The most reliable Panasonic TV price List and specifications are shown here. You can view our website to know better prices for Panasonic TV. Here you can get the listed Panasonic TV available in all TPWS canteen stores.
TN Police Canteen Panasonic TV Availability List 2023
check here the availability of the Panasonic TV List:
Panasonic – LED Television 32 LED Smart Andriod Television (Model: TH 32LS550DX SERIES)
Panasonic – LED Television 32 LED Smart Andriod Television (Model: TH 32LS670DX Series)
Panasonic – LED Television 40 LED Smart Andriod Television (Model TH 40LS670DX Series)
Panasonic – LED Television 32 LED Television (Model: TH-323200DX SERIES)
Panasonic – LED Television 43 LED Smart Andriod Television (Model: TH 43LS670DX Series)
Panasonic – LED Television 43 LED 4K Smart Andriod Television (Model: TH 43LX700DX Series)
Panasonic – LED Television 43 LED 4K Smart Andriod Television (Model: TH 43LX750DX Series)
Panasonic – LED Television 55 LED 4K Smart Andriod Television (Model: TH-55 LX750DX Series)
TN Police Canteen Panasonic TV Code and Price List 2023
Here, you can see furnished details of Panasonic TV price and code for each item available in canteen stores for your own reference
Panasonic – 32 LED Smart Andriod TV (Model: TH 32LS550DX SERIES)
| | |
| --- | --- |
| Code | 42271 |
| Model | TH 32LS550DX SERIES |
| Manufacturer | Panasonic Ltd |
| MRP | 23990 |
| TPWS Rate | 14872.62 |
Panasonic – 32 LED Smart Andriod TV (Model: TH 32LS670DX Series)
| | |
| --- | --- |
| Code | 42272 |
| Model | TH 32LS670DX Series |
| Manufacturer | Panasonic Ltd |
| MRP | 25490 |
| TPWS Rate | 17095.22 |
Panasonic – 40 LED Smart Andriod Television (Model TH 40LS670DX Series)
| | |
| --- | --- |
| Code | 42273 |
| Model | TH 40LS670DX SERIES |
| Manufacturer | Panasonic Ltd |
| MRP | 34990 |
| TPWS Rate | 25339.75 |
Panasonic – 32 LED Television (Model: TH-323200DX SERIES)
| | |
| --- | --- |
| Code | 42274 |
| Model | TH-323200DX SERIES |
| Manufacturer | Panasonic Ltd |
| MRP | 19990 |
| TPWS Rate | 12635.78 |
Panasonic – 43 LED Smart Andriod Television (Model : TH 43LS670DX Series)

| | |
| --- | --- |
| Code | 42275 |
| Model | TH 43LS670DX Series |
| Manufacturer | Panasonic Ltd |
| MRP | 42990 |
| TPWS Rate | 27111.6 |
Panasonic – 43 LED 4K Smart Andriod Television (Model: TH 43LX700DX Series)
| | |
| --- | --- |
| Code | 42276 |
| Model | TH 43LX700DX Series |
| Manufacturer | Panasonic Ltd |
| MRP | 50990 |
| TPWS Rate | 31293.61 |
Panasonic – 43 LED 4K Smart Andriod Television (Model: TH 43LX750DX Series)
| | |
| --- | --- |
| Code | 42277 |
| Model | TH 43LX750DX Series |
| Manufacturer | Panasonic Ltd |
| MRP | 56990 |
| TPWS Rate | 38806.93 |
Panasonic – 55 LED 4K Smart Andriod Television (Model: TH-55 LX750DX Series)
| | |
| --- | --- |
| Code | 42278 |
| Model | TH-55 LX750DX Series |
| Manufacturer | Panasonic Ltd |
| MRP | 82990 |
| TPWS Rate | 57120 |