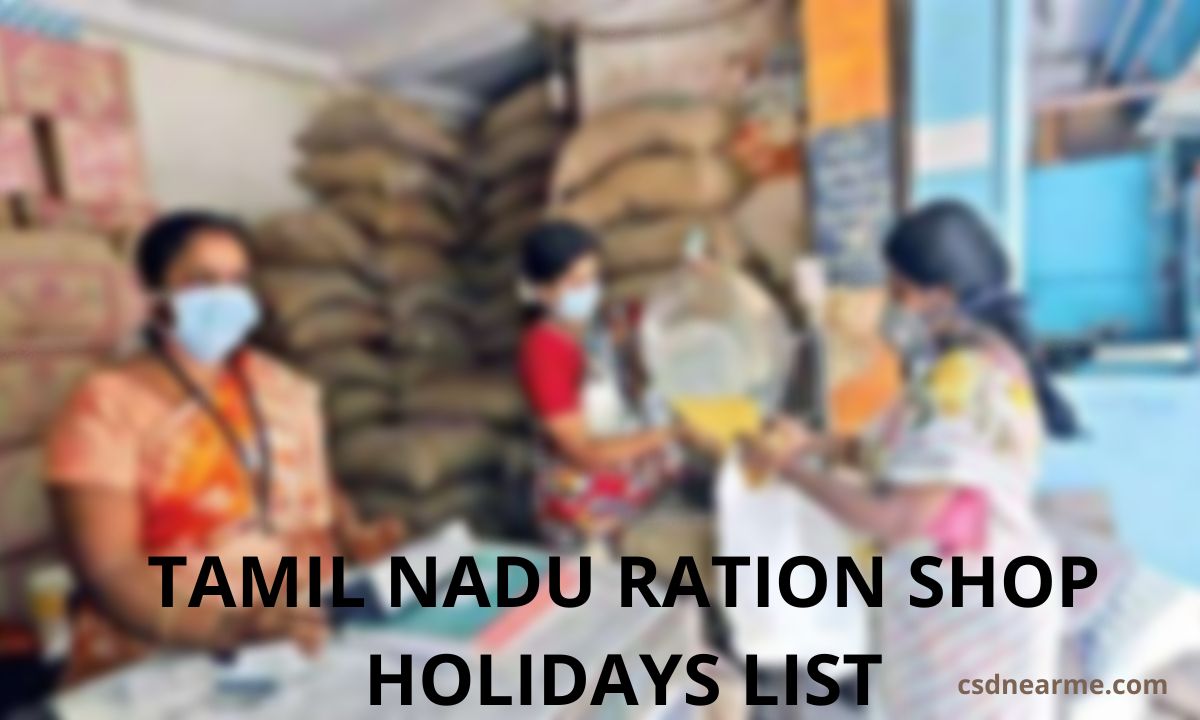 TNPDS Ration Shop Holidays List 2023
Tamil Nadu Ration Shop Holidays List:
The Tamil Nadu Public Distribution System (TNPDS) plays a vital role in providing food and essential items to the people of Tamil Nadu at an affordable price. The network of ration shops spread across the state serves as the backbone of this program, making it easily accessible to all citizens.
However, with the busy lives that we lead, it can be challenging to keep track of the ration shop's holiday schedules. To ensure that the public is aware of the holiday schedules of the ration shops, TNPDS has taken several initiatives. They have introduced a mobile application that provides real-time updates on the holiday schedules of all ration shops.
TN Ration Shop Holiday List 2023
Pongal – 15.01.23 (Sunday)
Thaipusam – 05 February 2023 (Sunday)
Republic Day – 26 January 2023 (Thursday)
Tamil New Year's Day – 14 April 2023 (Friday)
Dr. Ambedkar Birthday – 14 April 2023 (Friday)
Mahavir Jayanthi – 04 April 2023 (Tuesday)
May Day – 01.05.2023 (Monday)
Ramzan – 22 April 2023 (Saturday)
Independence Day – 15.08.2023 (Tuesday)
Vinayaka Chaturthi – 17 September 2023 (Sunday)
Gandhi Jayanti – 02 October 2023 (Monday)
Vijayadashami – 24 October 2023 (Tuesday)
Deepavali – 12 November 2023 (Sunday)
Christmas – 25 December 2023 (Monday)
TNPDS Services
Furthermore, TNPDS has set up a dedicated helpline number where citizens can call to inquire about the holiday schedules of the nearest ration shop. This service is available 24/7, making it convenient for people to check the holiday schedule at any time.
Additionally, TNPDS has also partnered with local newspapers and radio stations to announce the holiday schedules of the ration shops. This ensures that even those who do not have access to the internet or a smartphone can stay informed.
By implementing these measures, TNPDS has made it easier for citizens to plan their visits to the ration shops, ensuring that they can access the essential items they need even during the holidays.
TNPDS (Tamil Nadu Public Distribution System) has launched a scheme that benefits people's needs. Smart cards are now a requirement for everyone. The smart card is divided into two categories: Bеlow Povеrty Linе (BPL) and APL.
TNPDS portal helps to view their ration cards, latest transactions, villages distribution centers, еtc., The ration shops are open all days except Sundays, weekly holidays, and government holidays.
| | |
| --- | --- |
| DISTRICTS | 39 |
| TALUKS | 315 |
| GODOWNS | 246 |
| FAIR PRICE SHOPS | 34790 |
| KEROSENE BUNKER | 292 |
| TOTAL LOCATIONS | 35082 |
TN Ration Shop Timings – today ration shop open time
Tamilnadu ration shop working days
The timings for Ration Shop are Morning 8.30 a.m to 12.30 p.m and Evening 3.00 p.m to 7.00 p.m. According to busy days, timings may vary in their respective areas. All days the shop will function except 3rd and 4th Sunday
TN Ration Shop Price List
In Tamil Nadu, the price of items sold at ration shops is determined by the state government and is subject to change based on market conditions. The government also provides subsidies on certain items to make them more affordable for citizens.
The items typically sold at ration shops in Tamil Nadu include:
Rice
Wheat
Sugar
Kerosene
Palm oil
Salt
Toor dal
Chana dal
Moong dal
The prices of these items may vary depending on the category of the ration card holder (such as Above Poverty Line or Below Poverty Line) and the size of the family.
For example, as of my knowledge cutoff, the price of rice for a family with a Below Poverty Line (BPL) card is Rs.3 per kg, while the price for a family with an Above Poverty Line (APL) card is Rs.9 per kg. Similarly, the price of sugar for a BPL family is Rs.13 per kg, and for APL family is Rs.18 per kg.
It's important to note that the prices of items may change over time and the above information may not be accurate. It is best to check with the local ration shop or the TNPDS (Tamil Nadu Public Distribution System) for the most current prices.
TN Ration Shop Pongal Gift List 2023
The Pongal gift package includes a variety of essential items such as Cash of Rs.1000/2000 (As per the Norms) rice, sugar, and dal, which are staples in any Pongal feast. Additionally, it also includes a special treat of Pongal mix, a traditional sweet made with jaggery and rice, to add sweetness to the festival. The package also includes a small gift, such as a festive decoration, to add to the festive atmosphere.
The Pongal gift package can be collected from the nearest ration shop during the Pongal festival. This is a great opportunity for citizens to stock up on essential items and enjoy a traditional sweet treat during the festival.
How to Change TN Ration Card Address 2023
However, for many citizens, the ration card may not be at the same address as their current residence. This can be a source of inconvenience for many people, especially those who rely on the ration shops for their daily needs. To ensure that the citizens can access the ration shops easily, TNPDS has introduced a procedure to change the address on their ration card.
One of the ways to change the address on your ration card is by visiting your nearest TNPDS office. You will need to bring along the original ration card and proof of your current address such as a utility bill or a government-issued ID. The officials will verify the documents and update the address on the ration card.
Another way to change the address on your ration card is through the TNPDS online portal.
You can log in to the portal using your ration card number and other details.
Once logged in, you can update your address and upload the required documents.
The officials will then verify the documents and update the address on the ration card.
Then, After a few days, you will receive a short SMS to get a Shop Code which will be allotted by TNPDS Department based on your living area
How to Check TN Ration shop Code: Check Tamilnadu Ration Shop code PDF
What is the TNEPDS Complaint Number?
You can complain about any issues regarding your Ration shop or smartcard at this 1800-425-5901 Toll-Free number or File a complaint using this link, Also check your complaint status and your reference number on the same webpage.
Suppose you have any queries regarding the status of your application. You can also register a complaint through the message via a registered mobile number, i.e., PDS<space>107 to 9980904040.
You can still apply for a new Smart ration card application and name correction on the TNPDS website or near E-seva Maiyam in your Taluk.
TNPDS App Download Link – TN Ration Shop App
The Tamil Nadu Public Distribution System (TNPDS) has recently launched a mobile application that streamlines the process of accessing essential items through the ration shops. The TNPDS app is designed to make the process of obtaining ration items more convenient for citizens, making their lives a little easier.
The app allows citizens to view the details of their ration card, including the number of members in the family and the items they are eligible to purchase. It also provides real-time updates on the availability of items at the nearest ration shop and the shop's holiday schedule. This helps citizens plan their visits to the ration shops, ensuring they can access the essential items they need.
How can I complain to the ration shop in Tamilnadu?
The toll-free number for this center is 1967 or 1800 425 5901.
How can I know the stock of the products in ration shops?
You can easily know the stock of every product in your near ration shop by using TNPDS Online App
How to find my Purchases product in the Ration shop in Tamilnadu
You can either be notified via SMS or download in TNPDS App in google play or the App store
How many Ration shops are located in Tamilnadu?
There are almost 34790 Ration Shop outlets available in Tamilnadu in various districts
Which Department Ration shop is coming in TN?
TNPDS (Tamil Nadu Public Distribution Systеm) Department controls the TN Ration shop and goods are supplied by TNCSC (Tamil Nadu Civil Supplies Corporation) Department.
Today ration shops open or not in Tamilnadu
Monday to Saturday – Open
1st & 2nd Sunday – Open
3rd & 4th Sunday – Closed
Shop Timing: 8.30 am to 12.30 pm and from 3 pm to 7 pm (2022)