Navigation
---
TAGS:
---
TN SETC Motel Lists – Approved Highway Hotels
Edited by:
InfoTechies
---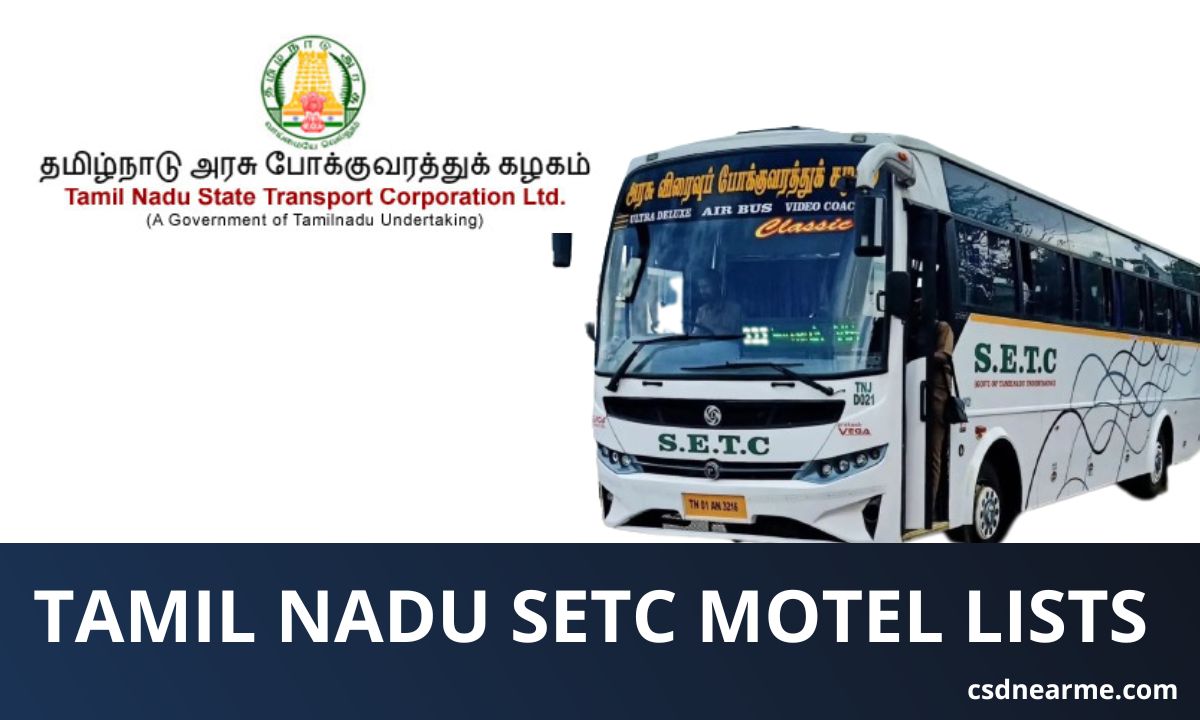 SETC Approved Hotel list – Updated
SETC: Tamil Nadu state transport corporation (SETC), it is a government-owned public transport corporation that operates bus services within Tamil Nadu and to the neighboring states. It was established in 1975 and is headquartered in Chennai.
SETC operates a fleet of buses including AC and non-AC buses and offers services such as express, deluxe, and ultra-deluxe buses for long-distance travel. It also provides a parcel service for the transportation of goods.
With its extensive network and affordable fares, SETC is vital in connecting people across Tamil Nadu and beyond. The corporation is committed to providing safe, comfortable, and reliable transportation to its passengers and continues to innovate and improve its services to meet the needs of its customers.
SETC (TNSTC) MOTEL List
List of Approved motels by SETC for passenger amenities and for Dining: TN Govt Approved Highway Hotel Details
Hotel Name
Name & Address
J.P.Hotel
J.P.R.Kannan, NH4,
Baluchettichathiram,
Kanchipuram District.
Reyanshika Hotel
K.Seenithai,
Thulakapatti, R.R.Nagar post,
Viruthunagar District-626 204
Hotel Nellai Aryas
DV.Sankaran
Madurai To Tuticorin Bye Pass
Malakaranthai
Ramesh Hotel
Subburaj
Melakaranthai,
Tuticorin to Madurai Road,
Tuticorin District.
Hotel Aarthi
P.Muthukumar
Madhucon Building,
Dindigul Salem,
Salarapatty Viruthalaipatty (Po),
Vedasandur (Tk)
Dindigul Dt -624711
Hotel Aryaas
N.Subburaman
1/255,Near Toll Gate .
Vijayamangalam.,
Erode Dt-638056
Hotel Sri SaravanaBhavan
T.Saravanan
Excess Colleage Opp
Pallakka palayam Kumarapalayam
Namakal DT
Coimbatore to Slm
MSC Deepsika Restaurant
R.Pandarinathan,
Maruthuvan Padi,
S.Navalpakkam (po),
Vandavasi Taluk,
Tiruvannamalai District
Hoter ECR-In
D.Jagadesan
Pondy To Chennai
Gangadevan Kuppam
Kadapakam
Chengal Pattu (DT)
Hotel Sendhur
S.Vekatesan
NO.99 ECR Main Road
Chennai To Pondy
Marakanam ECR
Villupuram (DT)
Hotel Surya
R.Prabu
Chennai to Bangalore,
Poluppalli Village,
Krishnagiri-15
Hotel Uthaya
R.Prabu
193/23, NH-7, Bye-Pass Raod,
Billanakuppam PO,
Polupalli, Krishnagiri District.
Hotel Saravana Bhavan
A.V.Damodaran,
Bangalore to Krishnagiri Highway
Periyapulivarisai,
Billanakuppam Krishnagiri
Hotel Sri Anandha Bhavan
A.V.Damodaran,
Krishnagiri to Bangalore Highway
Periyapulivarisai,
Billanakuppam Krishnagiri
Hotel Sri Anandha Bhavan
K.Praveen Raj
Chennai To Trichy
Chinna valavayar
Kooteripattu, Villupuram
Hotel Saravana Bhavan
R.Lokesh
Chennai To Trichy
Vikaravandi, Villupuram
Hotel Archana
G.Kumar
Trichy to Chennai Road,
Sithani Vikravandi,
Viluppuram(Dt)
Hotel Aristo
M.Elango
Chithani
Chennai To Trichy
Vikkaravandi
Hotel Sri Annapoorna
M.Elango
Chennai- Trichy main road,
V.Salai, Vikkravandi Block,
Villupuram
Hotel Krishna Bhavan
K.Ramar
Coimbatore in Madurai Road,
No112B Dindugul Bye Pass Road
Aachiyur Post
Tarapuram Block, Tirupur
Hotel Sri Balaji Ariyas
A.Pandurangan
No.189, Chennai To Trichy
GopalaKrishnapuram
Kedelam, Ulunthurpet
Kallakurich DT
Hotel Sri Prasanna Bhavan
R.JayaRaman
Near Senkurichi Tollgate
Chennai To Trichy Highway
Ulundurpet
Balaji Saravabhavan
C.Mohan Babu Reddy
Gadhanki Tool Plaza
Gadhanki Post
Paakala District, Andharapradesh
Aachiya Hotel
Covai to Chennai
2/105-A vamuga kangeyampaliyam,
Sengarpalli,
Tirupur
Hotel Aanatha Bhaven
Covai to Chennai
Vaiguntham Tollgate
Sangakri
Salem
Hotel Janani
415/464 Yadavar Street,
Bommarajpet,
Pallipet, Thiruvallur
K M S Hakkim Kalyani Biriyani Restarant
5/284a.Manikandam union
Kallikudi Village
Srirangam, Trichy
Bairavi Hotel
98/1 Vadamugam
Kangeyampalayam
Chengapalli
Tirupur
Hotel Saravana Bhavan
10,Vemu Institute Of technology
Kothakota
Chittoor
Andha Pradesh-517124
Sri DurgaBhavan
D.Raja
Sirugampoor to Hosur Road
Chennai to Bangalore High Way
Vellore
Kathirmathi Karaikudi Chettinadu
2063,Avinashi Road
Kanjappalli
Annur, Coimbatore
Anitha Bhavan
1,Central bus stand blpck-24
Neyveli
Kurinjipadi Block
Cuddalore
Sri Saravanabava Family Restaurant
Sno,237/1B Dharmapuri Main Road
(NH7)Sanjeevarayam Temple Adivaram
Karimangalam
Dharmapuri 11
Hotel Saravana Jothi
Salem to Chidambaram Main road
Kural Road
Sennavaram Chinnasalem
Sri Hotel Vasantha Bhavan (Chennai-Trichy Route)
C.Jayachadhiran,
Reliance Petrol Bunk,
Ulundurpet Tollgate,
(Chennai-Trichy Region)
Hotel Achariya
54/5A,Near Tollgate,
Chennai-Trichy NH,
Ulundurpet,
Villuppuram-606107
As per the Tamilnadu State transport department, The TNSTC, and SETC Bus should stop and leave breaks only in these above-mentioned motel and highway hotels, if any SETC, or TNSTC Bus are stopped in any other hotels, please report in this link: Click here to file a complaint
More Links:
Check TNSTC Bus Refund Status Online
Check TNSTC Tickets Status Online
SETC bus Type of services
| Type Of Service | No.Of Buses |
| --- | --- |
| Town Ordinary Services (Women No fare Travel) | 7105 |
| Chennai Metro – City services | 3233 |
| Town Services (in Districts) | 2515 |
| Moffusil services | 9103 |
| Ghat services | 497 |
| Inter State Express Services | 604 |
| Intra State Express Services | 478 |
| Spare Buses | 999 |
| Total | 17429 |