Navigation
---
TAGS:
---
Chennai MTC Free Pass, Concession Ticket, Issuing point, Application form
Edited by:
InfoTechies
---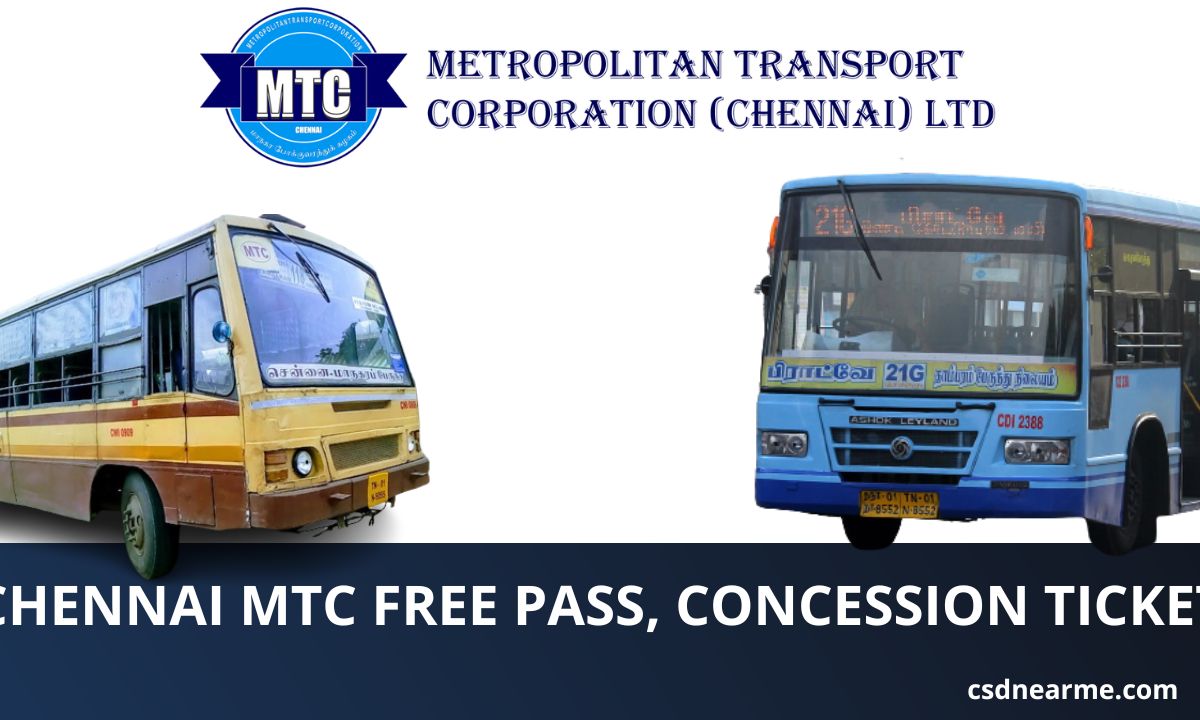 MTC: Metropolitan Transport Corporation (MTC) is a government-owned public transport corporation in Tamil Nadu, India. It was established in 1972 and is responsible for providing bus services within the Chennai metropolitan area.
MTC operates a fleet of buses that includes both AC and non-AC buses, and offers a range of services such as express, deluxe, and ultra-deluxe buses. The corporation also operates special services during festivals and other occasions to cater to the increased demand.
One of the key objectives of MTC is to provide safe, affordable, and reliable public transport to the citizens of Chennai. The corporation has taken several steps to improve the quality of its services, including the introduction of modern buses with better amenities, the installation of GPS and other tracking systems, and the implementation of a smart card system for ticketing and fare collection.
MTC Provides FREE Pass up to 12th std
Free Pass Concession upto HSC
Students studying from 1st Std to 12th Std. in the Schools recognized by Government and students studying in the Government ITI, Government Colleges, and Government Polytechnics are eligible to avail of this free bus pass facility.
Passes are issued to travel from residence to school, college, and back.
Allowed to travel on all days of the month.
Permitted to travel in all Ordinary, Express, and Deluxe services except Night Services & AC.
Procedures for getting the tickets:
School authorities to get the required application forms from the Head Office of MTC.
Pass-issuing agencies will go to the schools for taking photos and issuing passes under the online system.
Passes after lamination are given to students in the schools themselves.
Period of issue
Passes are issued from the 15th of June to the 30th of November every year. The validity period is from 15th June to 30th April.
College Student Concession Ticket
Hello! If you're a college student looking to obtain a concession ticket for travel on public buses, here are the steps you need to follow:
At the beginning of every academic year, your college will issue 50% Student Concession application forms, which you need to fill out and register for. The Point to Point card for the first month of travel will also be issued to you through your educational institution.
For subsequent months, you can get your Point to Point card directly from the M.T.C.'s Sales Counters. Make sure to carry your Student ID Card with you when you go to purchase the card.
The renewal dates for your concession pass will be mentioned on your Student ID Card. Make sure to follow those dates to avoid any inconvenience.
50% Student Concession Tickets are issued from the 1st to the 13th of every month. If you miss this period, you will have to wait until the next month to obtain your concession pass.
Your bus pass will be valid from the 11th of each month to the 10th of the following month.
In case you lose your Student ID Card or your address changes, you should contact the concession pass incharge at your college. They will guide you on the steps to take to update your details and get a new ID card if needed.
MTC Bus Pass Issuing points:
1. Adyar
2. Ambathur Industrial Estate
3. Ambathur OT.
4. Anna Nagar (West)
5. Avadi
6. Ayanavaram
7. Broadway
8. C.M.B.T
9. Central Rly station
10. Guindy Industrial Estate
11. Iyyappanthangal
12. K.K.Nagar
13. M.K.B.Nagar
14. Mandaveli
15. Pallavaram
16. Perambur
17. Poonamallee
18. Redhills
19. Saidapet
20. Sriperumbathur
21. T.Nagar
22. Tambaram (West)
23. Thiruvanmiyur
24. Thiruvotriyur
25. Tondiarpet
26. Vadapalani
27. Vallalar Nagar
28. Velachery
29. Villivakkam
MTC BUS Pass Challan, School free bus pass, Form Download
I hope this helps you with obtaining your concession ticket. Have a safe and comfortable journey!