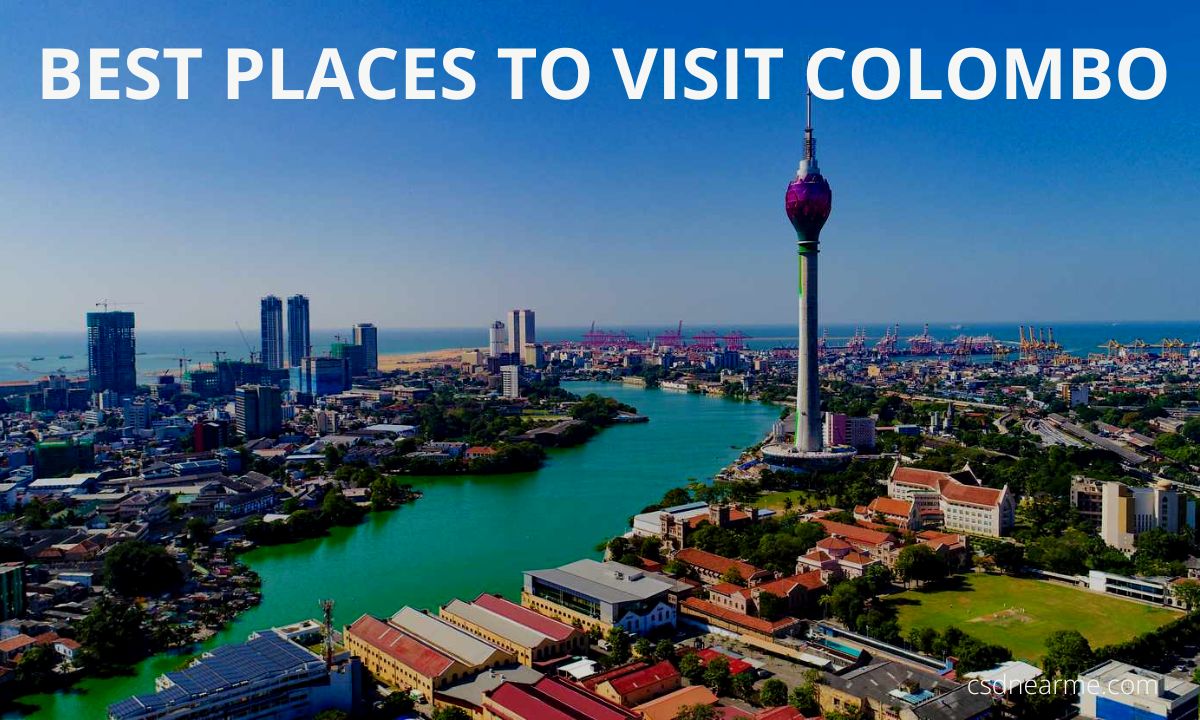 Vacation can improve your physical and mental health, stress levels, sleep, and attitude. However, taking the right amount of vacation time can actually increase your work productivity. Planning a Vacation trip can help to spend time with family and friends.
The lovely island in the tropics is Sri Lanka. The majority of tourists choose Colombo as their entry point into Sri Lanka but resist the urge to skim through this vibrant and fascinating city. Depending on the tourist's interests, they can decide when is the best time to visit Colombo. It's the ideal location to organize your vacations and take a break from the busy city streets.
Places To Visit In Colombo with Family
Choose the best ones, and make sure you have your camera with you to document Colombo's stunning locations. Read more by scrolling down.
If you are traveling from India, You can choose Delhi, Banglore, and Chennai airports to travel on Flights.
Royal Colombo Golf Course – Enjoy The Gentlemen's Game
Paradise Road – For Shopping
Shri Ponnambalawaneswaram Kovil – Peace & Tranquility
Sri Kailawasanathan Swami Devasthanam Kovil – Beautiful & Calm
Colombo Port Maritime Museum – A Short History Walk
Old Parliament Building – Take A Plunge Into The History
World Trade Centre – Most Eco-Friendly Building
Pettah Floating Market – Shop On A Floating Platform
Laksala – Best Souvenir Shop
Khan Clock Tower – A Colombo Landmark
Asokaramaya Buddhist Temple – Bow, Pray & Meditate
Wolvendaal Church – Finest Dutch Architectures
Colombo Lotus Tower – Beauty Not To Be Missed
Sri Lanka Planetarium – Haven For Astronomy Lovers
Sri Ponnambala Koneswaram Kovil – Top Hindu Temple
National Art Gallery – A Perfect Place For Art Lovers
Crow Island Beach Park – The newest Parks Of Colombo
Sambodhi Chaithya – Admire The Beauty Of The Stupa
Slave Island – Former Prison
Beddagana Wetland Park – A Colorful Place To Explore
Diyatha Uyana – Explore 3D Art
Bellanwila Rajamaha Viharaya – Most-Visited Temple
Kelaniya Raja Maha Vihara – Landmark Of Cultural Charm
Seema Malaka – Ideal For A Peaceful Getaway
Bally's Casino – Try Your Luck
Colombo Dutch Museum – Know More About The History
St. Lucia's Cathedral – Pray For Everyone's Well-Being
Galle Face Green – Explore The Shimmering Coastline
The Independence Square – Historical Landmark Of Colombo
Jami Ul-Alfar Mosque – Let Red & White Stripes Baffle You
National Museum Of Colombo – Admire The Art Collection
Beira Lake – End The Day With A Romantic Sunset
Viharamahadevi Park – Perfect For Recreational Activities
Gangaramaya Buddhist Temple – Gape At The Architecture
Attidiya Bird Sanctuary – Ideal For Flora & Fauna Lovers
Mount Lavinia – Stay At A Heritage Hotel
Dehiwala Zoo – Meet The Animals
Old Galle Buck Lighthouse – Enjoy The Panoramic Views
Traditional Puppet Art Museum – Enjoy Sri Lankan Culture
Arugam Bay Beach – Chill & Relax At The Beach
Day Tour – Explore, Eat, Relax, Repeat
Old Dutch Hospital – Buy Some Souvenirs
Casino Marina – Get Some Money Out Of Your Pocket
Barefoot – Get A Jazz-like Vibe
St. Peter's College – Discover The Culture Of Colombo
Places To Visit In Colombo with Friends
Gangaramaya (Vihara) Buddhist Temple
Kelaniya Raja Maha Vihara
Mount Lavinia Beach
Colombo National Museum
Viharamahadevi Park.
Dutch Hospital Shopping Precinct.
Independence Square.
Ballys Casino.
Best Places To Visit In Colombo for Couples
Gangaramaya Buddhist Temple
Mount Lavinia Beach
Viharamahadevi Park
Independence Square
Dutch Hospital Shopping Precinct
Beira Lake
Uppuveli
Independence Memorial Hall
Nilaveli
Seema Malakaya Temple
Galle Face Green
Colombo Fort
Pigeons Island
Taprobane Island
Pettah Market
Best Season to enjoy in Colombo
The dry season, which lasts from January to March, is the ideal time to travel to Colombo. The northeast monsoon, which lasts from November to February, is the ideal time to travel to Colombo if you want to see the west and south coasts as well as the country's mountains. With the exception of the dry season, Colombo sees occasional rainfall throughout the year. The lowest humidity levels and coldest temperatures of the year make now the perfect time to experience Colombo's sightseeing.
Budget Hotels available in Colombo for Sightseeing
City Beds: The low-cost lodging facility is close to the Old Dutch Hospital Complex. If you wish to prepare meals on your own, there is a communal kitchen. A 24-hour front desk, parking, and transportation to and from the airport are also provided.
The Sapphire Hotel is another excellent low-cost option. It features family rooms and other colorful rooms. There is a pool, a restaurant that offers free breakfast, and free parking, among other amenities.