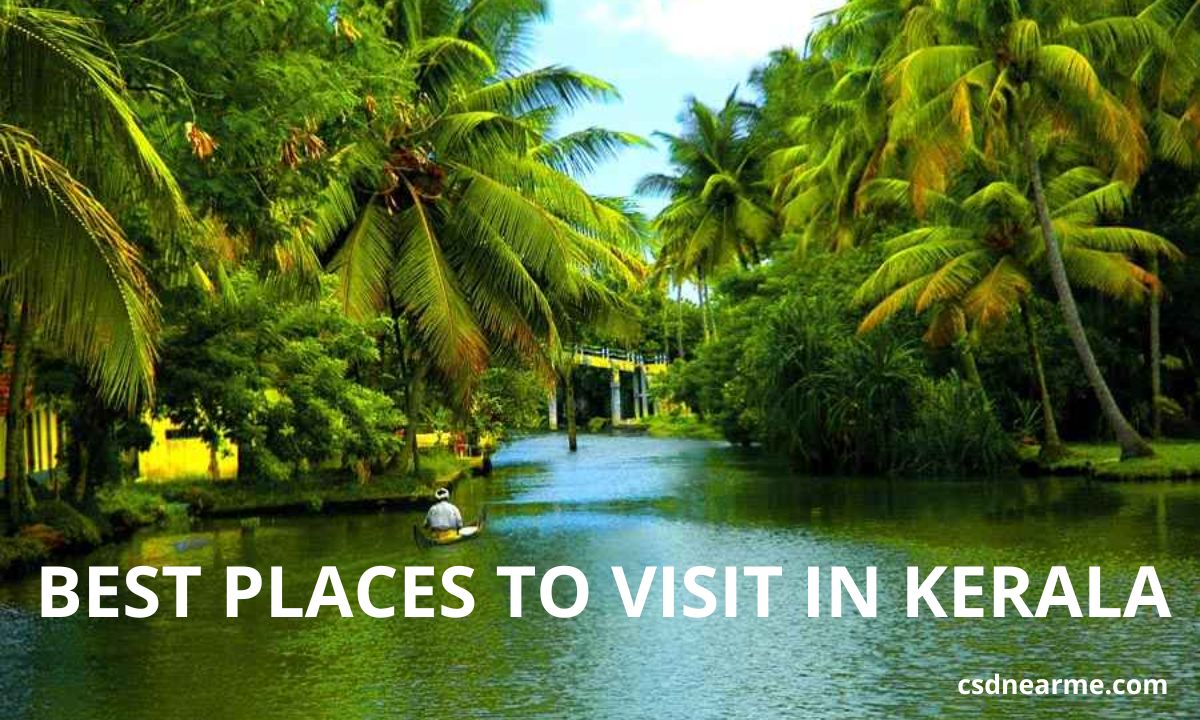 Stress levels, sleep quality, attitude, and physical and mental health can all be improved by travel. However, choosing the correct vacation period can boost your productivity at work. Spending time with family and friends can be facilitated by vacation planning.
Kerala referred to as "God's Own Country," Kerala is renowned for its expansive tea gardens, tranquil backwaters, and lengthy coasts. It is a tiny piece of paradise that is also one of the best tropical tourist sites to be found, and it is situated on the Malabar coast of Southern India. One can decide when is the best time to visit Kerala. It's the ideal location to organize your vacations and take a break from your busy life.
Places To Visit In Kerala with Family
Pick the best ones, and bring your camera so you can capture Kerala's breathtaking landscapes. Scroll down to continue reading.
Thekkady – Bask in the true abode of the God
Munnar – Walk amidst the rolling carpets of greenery
Alleppey – Get enamored with India's Own Venice
Kovalam – Bypass Goa for Kovalam
Wayanad – Explore the history of Edakkal Caves
Kochi – Holiday in the Queen of Arabian Sea
Thrissur – Explore religious monuments and spiritual places
Kozhikode – Visit the place where Vasco-da-de-Gama arrived in 1498
Kottayam – Discover the secrets of the rubber capital of India
Poovar Island – Ditch Maldives for India's largest manmade island
Places To Visit In Kerala with Friends
Alleppey. Alleppey is popular for its backwaters which speak volumes about its natural beauty.
Kochi.
Munnar.
Kovalam.
Kumarakom.
Thiruvananthapuram.
Periyar National Park.
Wayanad.
Best Places To Visit In Kerala for Couples
Alleppey
Wayanad
Thekkady
Munnar
Vagamon
Varkala Beach
Kollam
Idukki
Chellarkovil
Athirappally
Best Season to enjoy in Kerala
Season of Summer in Kerala: Kerala's summer months are from March to May, and during this time most of the state experiences hot muggy weather. Even if it gets cooler in the evenings, the humidity makes it difficult to enjoy touring. In the summer, one can visit locations like Munnar, Thekkady, or Wayanad because hill stations are still cool. On the other hand, climates such as those in Kochi, Alleppey, and Kumarakom become oppressively hot and muggy for outdoor activities. However, that doesn't stop travelers from utilizing the cheaper off-season rates.
When the rains come to Kerala: The majority of Kerala, including the backwaters, beaches, and hill stations, is ideal for travel during the monsoon season, which lasts from June to August. One may experience a cooling atmosphere and see the state's luscious green landscapes in full bloom during the monsoon season. The rainy season is also perfect for indulging in Ayurvedic treatments and spa treatments since it provides relief from the humidity and the chilly, damp weather promotes a feeling of renewal. What could be better than relaxing in a spa while surrounded by lush vegetation and having your worry and fatigue wash over you?
Season of Winter in Kerala: Winter in Kerala begins in December and lasts through February with warmer temperatures. Since the humidity is lower and the temperature is cool and pleasant in the winter, exploring the backwaters and beaches is ideal. The hill stations are a little bit colder in the winter than usual. For those who enjoy nature treks, locations like Munnar and Thekkady in the wintertime provide stunning views of mist-covered mountain tops and foggy tea estates. Actually, the greatest time to travel to Kerala for a honeymoon is during the winter.
Budget Hotels available in Kerala for Sightseeing
Srivar Hotels: All rooms are air-conditioned and decently furnished to match or exceed the 3-star facility. All have minibar facilities and are WiFi friendly. Located a 3 to 4 minutes walk to the temple. For us at Srivar, ensuring the comfort and convenience of our guests is a matter of high priority. A restaurant at Srivar was a request we were repeatedly made aware of.
Sterling Munnar: Sterling Munnar is nestled within undulating hills in the quiet village of Chinnakanal, some 18 km from the hustle and bustle of Munnar town. The resort is located high above Munnar town with splendid views of the Anaiyirangal Dam, tea gardens, and surrounding forests.